Sponsorships | Casino Night Ticket Fundraiser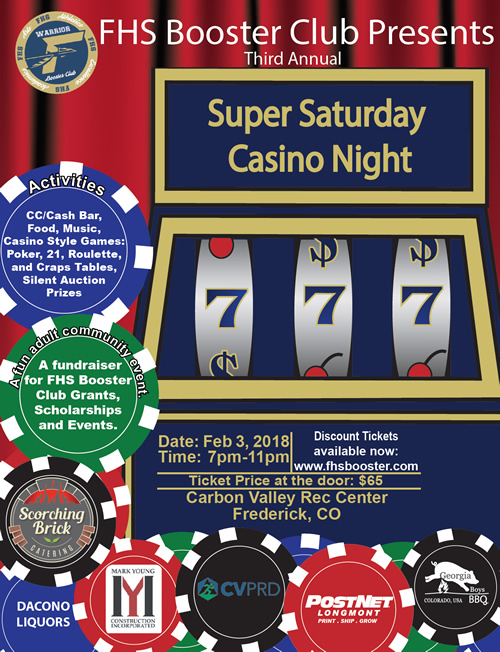 Casino Night is an Adult Community Event sponsored by the FHS BOOSTERS to raise money for all the student programs it supports.
Casino Night is held annually on "Super Saturday" the Night before the Super Bowl.  The night typically includes: food and beverages, casino gaming tables, drawings and a silent auction.
Date: February 3rd 2018
Time: 7:00 – 11:00 pm doors open at 6:30 pm
Location: Carbon Valley Rec Center
701 5th Street, Frederick, CO 80530
Cost: Donation of $65 at the door
Discount Tickets available online
How to Buy Tickets:
or in person at FHS front office (January Only – full price tickets)
or via text to 720-290-7032 (Discount tickets available)
Whats Included:
Delicious Food provided by Georgia Boys and Scorching Brick Catering
Cash Bar
Silent Auction – See below for the growing list of available items (check back for updates)
Music and Dancing
Games and Prizes
Casino Style Gaming with Professional Dealers
Casino Night Sponsorships Available
We are currently seeking one more company to  sponsor our Super Saturday Casino Night.
With a $500 donation your company will be listed as a sponsor for the event Your logo will appear on flyers, posters, and electronic announcements of the event. Your company will be announced at the event.
Your  donation will help to cover the cost of the entertainment and to purchase prizes.  Your donation will go along way in supporting the student programs at FHS. To place your sponsorship please email vicepresident @ fhsbooster.com
BECOME A SPONSOR
Casino Night Ticket Fundraiser
FHS Booster Club is offering all FHS clubs, Teams and organizations the opportunity to participate in the Casino Night Ticket Fundraising Program.  Using Social media and emails to reach family and friends – your organization can sell tickets (online) and your organization will earn money for each ticket sold.
The Fundraiser runs for the month of December.  To participate you must return the registration form.
The big thing here is that the adults (parents) will share and invite their friends to come out to the Super Saturday Casino Night and to go online to buy the tickets.  This is NOT a door to door type of sale.  Simply the parents will share the invite over social media and word of mouth and the tickets will be purchased online.  The ticket purchaser will state who they are affiliated with and that team gets credit for the sale.
Here are the links to the informative letter, the registration form, the flyer, and a draft email (please be sure to personalize the letter before sending it out.
Super Saturday Casino Night is a really fun night just for our adults in the community.  Spread the word, invite your friends and your program can raise some money.