Sponsors | Casino Night Ticket Fundraiser Tools | Become a Sponsor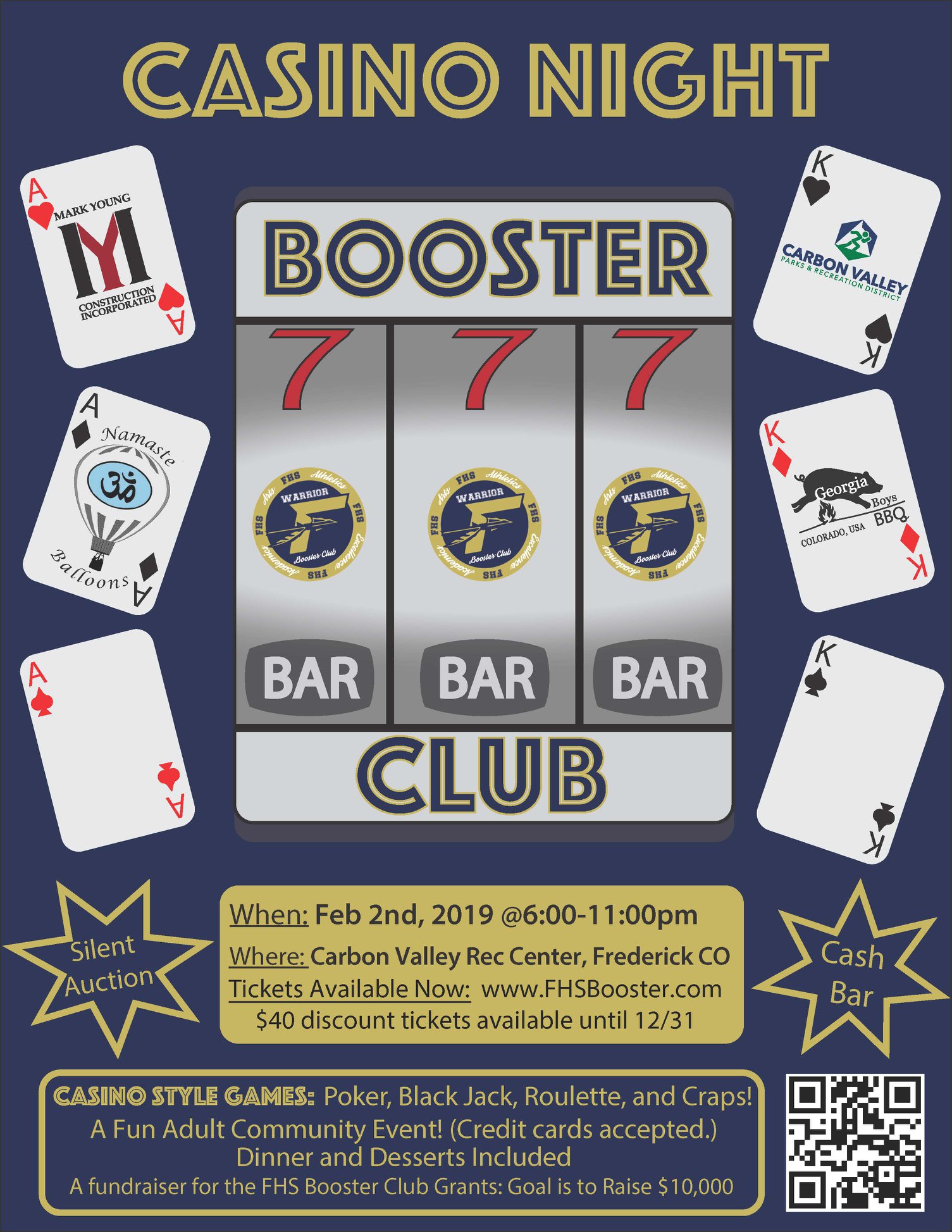 Casino Night Canceled for 2019
Update 1/14/19 – Unfortunately, we have had to cancel the event as we did not make the minimum number of ticket sales. You can choose to donate your ticket price to the the grant fund or FHS Program of your choice or you can request a full refund. You will receive an email or message soon regarding this and asking for your response.
Please take a moment to give us your feedback to help in planning next years Casino Night.
—————————————————–
Casino Night is an Adult Community Event sponsored by the FHS BOOSTERS to raise money for all the student programs it supports.
Casino Night is held annually on "Super Saturday" the Night before the Super Bowl.  The night typically includes: food and beverages, casino gaming tables, drawings and a silent auction.
Tickets
Date: Feb 2nd, 2019 – CANCELED!
Time: 7:00 – 11:00 pm doors open at 6:30 pm
Location: Carbon Valley Rec Center
701 5th Street, Frederick, CO 80530
Ticket Cost: $65 at the door
Whats Included:
Appetizers:
Dinner: From Georgia Boys
Desserts:
Music (and Dancing) provided by DJ Mass
Casino Tables and Professional Dealers
Cash Bar
The Booster Club has been working hard on getting everything set for Casino Night. Take a look at all that we have planned and the amazing Prizes and One of a Kind Silent Auction Items. Come back often for updates!!
GRAND PRIZES
SILENT AUCTION
Look ahead for real time online bidding from your phone and many fabulous items!
Thank you to our 2019 Sponsors!
2019 Casino Night Sponsorships Available
We are currently seeking one more company to  sponsor our Super Saturday Casino Night.
With a $500 donation your company will be listed as a sponsor for the event Your logo will appear on flyers, posters, and electronic announcements of the event. Your company will be announced at the event.
Your  donation will help to cover the cost of the entertainment and to purchase prizes.  Your donation will go along way in supporting the student programs at FHS. To place your sponsorship please email vicepresident @ fhsbooster.com
2018 Sponsors and Donors
Thank you to all our 2018 Sponsors!
Sponsors: Mark Young Construction, Scorching Brick Catering, Georgia Boys, Carbon Valley Park and Rec District, Post Net Longmont, Dacono Liquors,
Donors: Longmont Ford, Innovate Electric, Cimmaron Liqours, Envy Nails, Ziggy's, Java Mama, Sports Clips, Left Hand Brewing Company, Santiagos, The Post Brewing Company, Zoup, Qdoba, Rip Tide, Lori lee's Chocolates, Connections Staffing and Training, Celestial Seasonings, Christina Clark – New York Life, Christine Entrekin – LuLaRo, Laura Faulkner, Norwex, Carrie Maulk – Wildtree, 3rd Rock Liquors, Shoes and Brews, Loveland Ski Area, Elijah and Bonny Strong, Rob and Romaine Lowe, Jamie Abeyta
Casino Night Ticket Fundraiser Tools
FHS Booster Club is offering all FHS clubs, Teams and organizations the opportunity to participate in the Casino Night Ticket Fundraising Program.  Using Social media and emails to reach family and friends – your organization can sell tickets (online) and your organization will earn money for each ticket sold.
The big thing here is that the PARENTS ( not the kids) will share and invite their friends to come out to the Super Saturday Casino Night and to go online to buy the tickets.  This is NOT a door to door type of sale.  Simply the parents will share the invite over social media and word of mouth and the tickets will be purchased online.  The ticket purchaser will state who they are affiliated with and that team/club gets credit for the sale.
Here are the links to the informative letter, the registration form, the flyer, and a draft email (please be sure to personalize the letter before sending it out.
Casino Night Flyer (PDF) – coming soon
Casino Night Image for use in social media (JPG) – coming soon
Super Saturday Casino Night is a really fun night just for our adults in the community.  Spread the word, invite your friends and your program can raise some money.